Sweet, Smoked Habanero chilli is deliciously versatile.
It also has many, many devoted fans who would be happy to buy it in 'bucket' packs!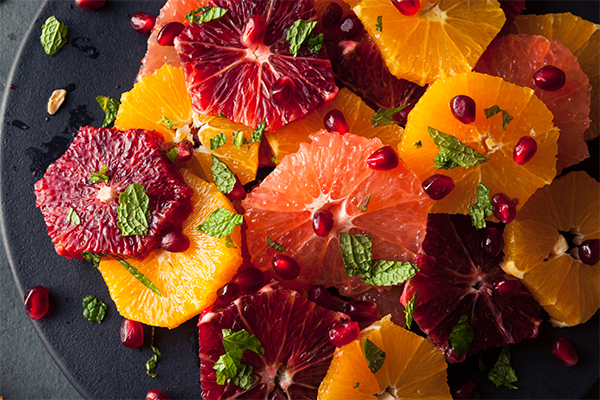 Working on a 'more plants than most' menu, we discovered that Smoked Habanero plays very nicely indeed with orange and pomegramate. So, we stirred some into pomegranate balsamic reduction as a dressing for this blood orange side.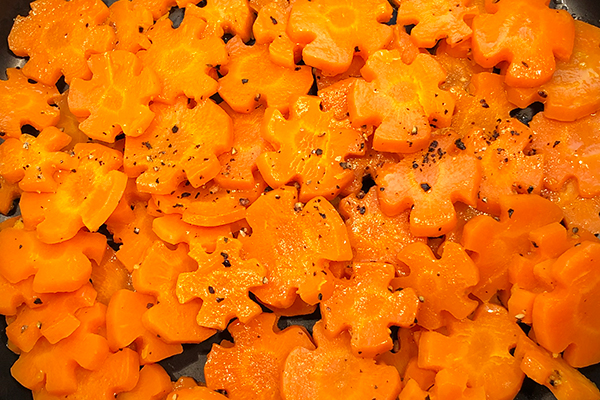 And while we were at it, we added Smokey Habanero to the melted butter and orange juice dressing for these carrots.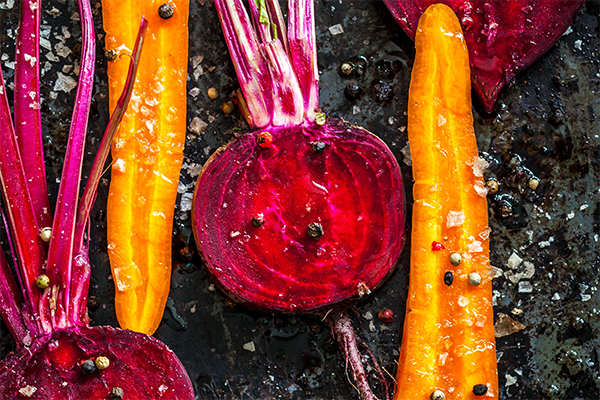 As much as carrots shine with a little Smoked Habanero, so do beets...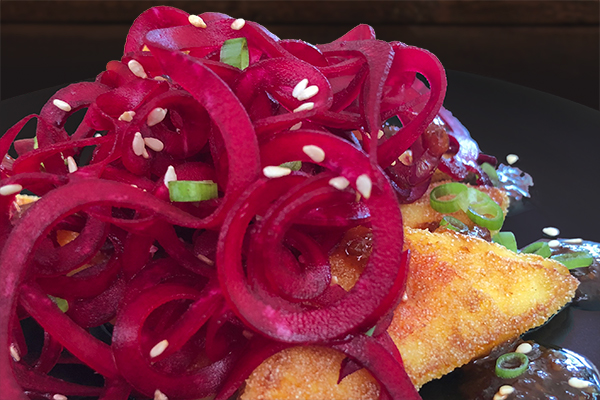 Try this delicious starter or light lunch.
Spiralise a young beet or two and sprinkle it with a light dressing of fresh ginger, lemon, a splash of Smoked Habanero and a little grapeseed (or sunflower) oil.
Cut the Halloumi into elegant triangles, ±15mm thick. If the cheese is damp enough for the Semolina to stick to it, go ahead and press the triangles firmly into the Semolina. If the cheese is a little dry, briefly dip the cheese in water. Dust the triangles off lightly and fry in a mixture of butter and sunflower oil.
Drain the beetroot. Put a couple of blobs of Smoked Habanero on the plate, arrange the triangles around the centre of the plate, top with the drained beetroot, a sprinkling of finely sliced spring onions and some sesame seeds.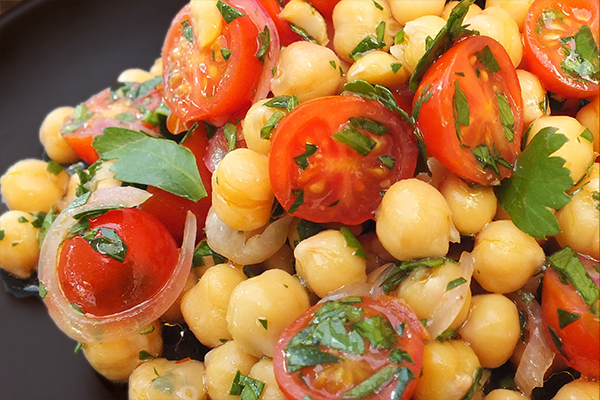 This is a fun to make, quick and easy salad for the 'vegi-vores'.
Chickpeas drained - tossed in a dressing of Smoked Habanero, sunflower oil and a squeeze of lemon.
De-bite a thinly sliced shallot - just soak the slices in a little super-salty water for about 10 minutes (or as long as it takes to prepare the rest of the ingredients).
Finely chop some cordiander-leaf (cilantro) and halve a small punnet of mini tomatoes.
Drain the sliced shallot and mix everything together - taste for seasoning (it might need a sprinkle of salt or another slug of Smoked Habanero) and serve.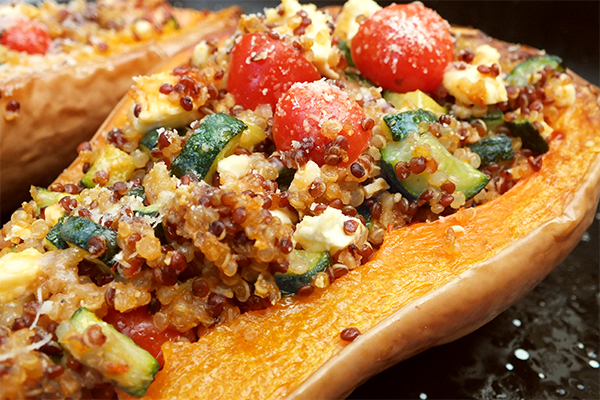 These stuffed butternuts looked so deliciously 70's, we just could not resist - and it tasted every bit as good as it looked!
Split and de-seed a couple of ripe butternuts. Oil them generously with sunflower oil, season with salt and roast in a hot oven ±190&degC until tender.
Meantime, cook up some quinoa. In a bit of oil with a little pat of butter, fry some rough chopped onions until they're just golden. Add a few chopped courgettes (baby marrows), and fry for another couple of minutes. Then add the mini tomatoes and let them just heat up.
Combine the quinoa and the fried veg. Add some small cubes of Mozarella and a generous slug of Smoked Habanero. Add salt to taste.
Pile the mixture into the butternut halves and sprinkle with grated Parmesan.
Voila - a 70's cliche revived!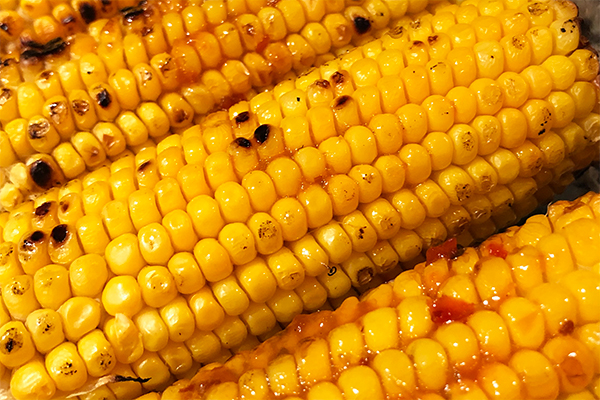 Smoked Habanero, melted into a little butter, is our dressing of choice for grilled corn. Most excellent if it is topped with some fresh coriander-leaf (cilantro).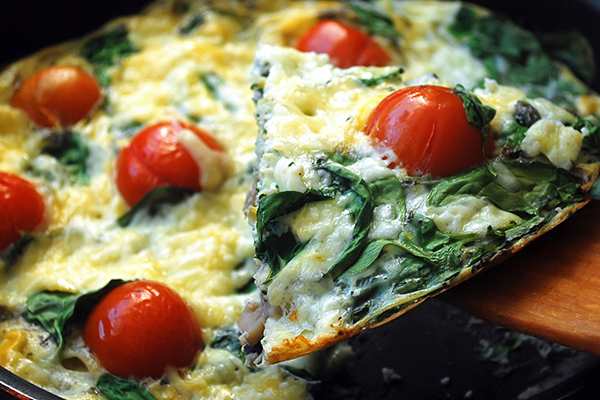 Anything topped with cheese (especially hot melted cheese), purrs with delight when you add a splash of Smoked Habanero...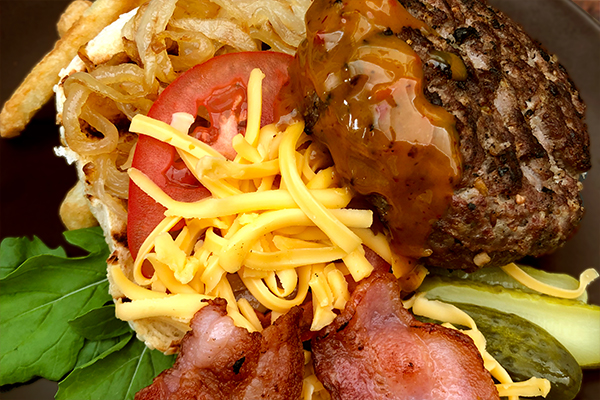 And of course, it is awesome on burgers...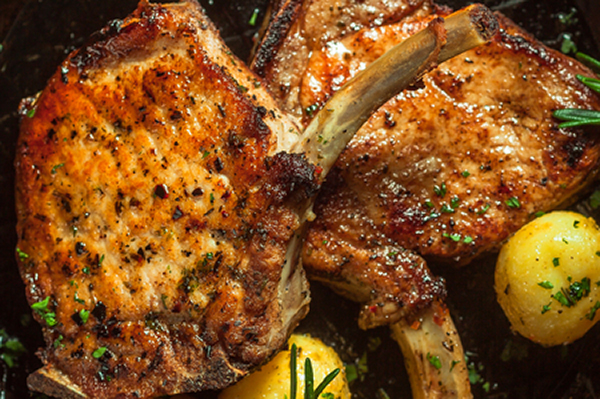 It works like a charm on grilled pork.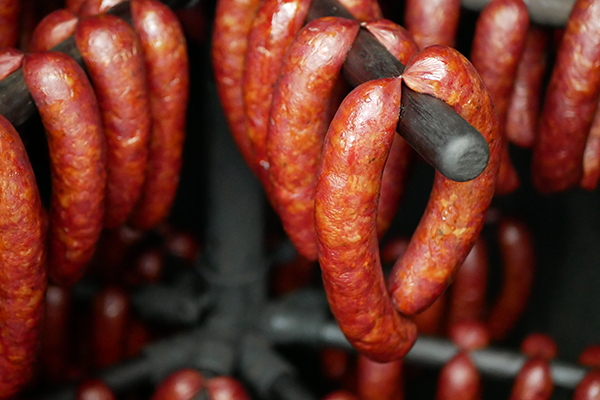 And smoked sausages...
Smoked Habanero is particularly perfect on sticky ribs.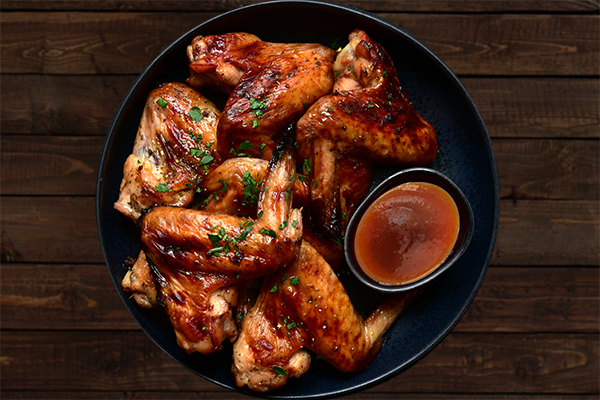 And sticky, slightly hot wings.
The first go-round with these sticky recipes we discovered that Smokey Habanero alone, was just too intense - so we dialed back the baste during cooking with some oil, some lemon juice, some fresh ginger and a slug of soy sauce.
Smoked Habanero (you might have guessed by now), is definitely the go-to flavourmaker in our kitchen. It is also the sauce most of our guests ask for - happiness!