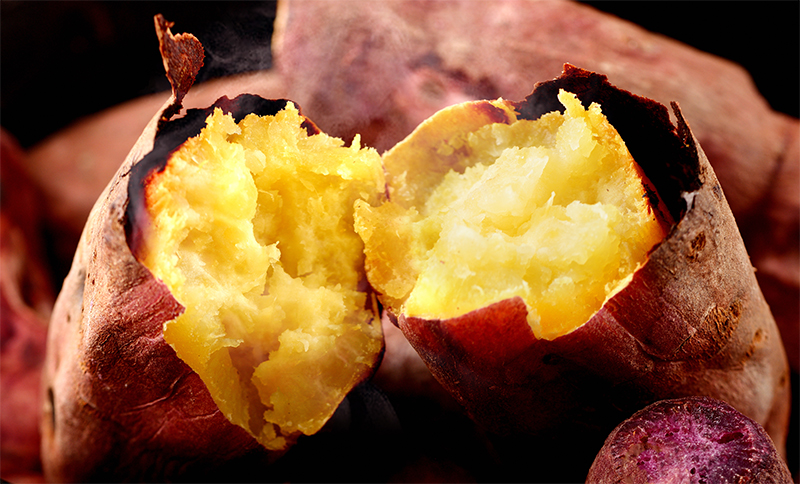 &nbsp
Inspirations for Sweet Potatoes...
Sweet potatoes love ginger - and ginger loves sweet potatoes :-)
Our favourite dressing for sweet potato perfection is simple:

• 1 unit of lemon juice and a few scrapes of zest
• Half a unit of either peanut, grapeseed or sunflower oil*
• Quarter to a third of a unit of Sweet Ginger Relish

Note: How much a unit is, will depend on how much dressing you need -
this is all about the proportions.
* Some oil or fat is essential, but if it feels like too much oil, use half oil, half water, or a mixture of melted butter and oil or, if you're adding the dressing to sweet potatoes that has already been fried (or baked) in oil, leave out the oil altogether and just add a bit of water to thin the mixture - always adapt to your taste and the character of the sweet potato.
&nbsp
---
&nbsp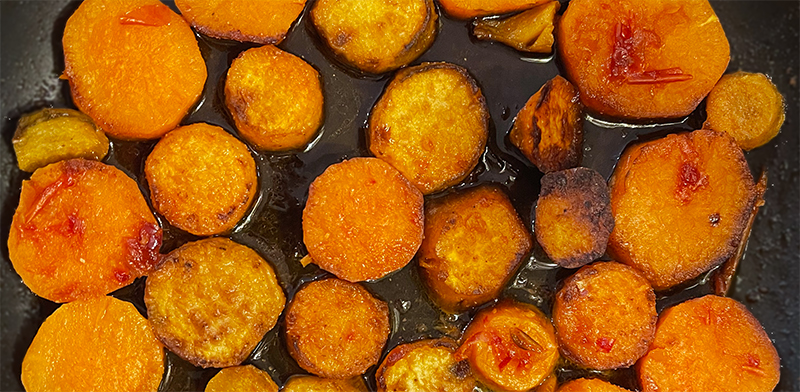 &nbsp
These sweet potatoes are just delicious with roast chicken or pork steaks... Fans will love them!
Slice some peeled sweet potatoes (about 1cm thick) and fry them in peanut or grapeseed oil on a med/low heat for about 5-7 minutes with the lid on. Sprinkle a generous pinch of salt over the top.
Turn each piece and sprinkle with a another generous pinch of salt. Add a splash of water to the pan (probably about 30-50ml), replace the lid and cook further on low heat for another 5 minutes (or unil the sweet potatoes are just cooked).
Make the dressing as above (we generally leave the oil out - there is already oil in the dish - and replace it with a bit of water), pour over the sweet potatoes in the pan and jiggle it around a little so all the rounds are coated. Replace the lid, remove from heat and let the dish rest for 5 minutes in the pan.
Sometimes, when red peppers are in season and we have lots, we'll wilt a few sliced red peppers and serve as a garnish/side dish. When we're lucky enough to find purple sweet potatoes, orange sweet potatoes and have lush red peppers, it becomes a carnival (cue circus music!).
&nbsp
---
&nbsp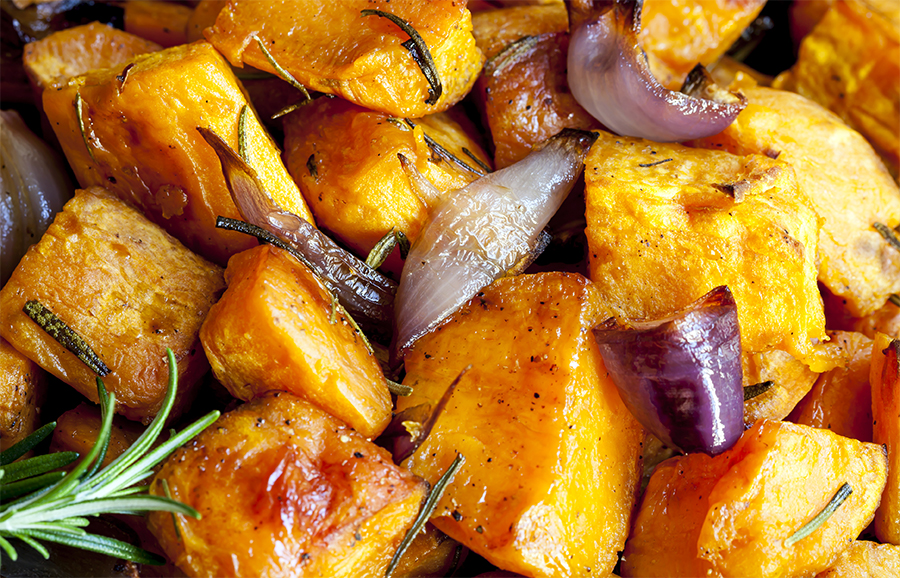 &nbsp
On feast days, the 'people to cook for' ramp up from 2 or 6, to 22 and sometimes, as many as 35 - so drastic measures are called for!
Budget on roughly a quarter of a sweet potato (assuming they're med/large) per person, and for every 10 people, add 'one for the pot'.
Pre-heat oven to 200&degC.
Wash, peel and cut the sweet potatoes into ± 3cm chunks*.
Peel and cut red onions into petals (roughly 1 large red onion per 5 people).
Break a whole head of garlic into cloves (leave them unpeeled).
Spread the chunks of sweet potato out on a sheet of baking paper on a large baking tray. At this stage, do not crowd them - they need room to 'breathe'. If necessary, use 2 baking sheets on both racks of the oven.
Drizzle with a thin stream of olive oil, enough to give each piece a little oil - tip: Here I might use a little jug or a squeeze bottle. Sprinkle with a couple of generous pinches of Savoury Salt (aim for a pinch per 2 sweet potatoes - that should be enough).
Strip in a few sprigs of rosemary - not too many - just a little, and place in the oven (pre-heated to 200&degC) to bake for 15 minutes. If you have 2 trays of sweet potatoes, give it another 5 minutes.
Add the red onions and the whole garlic cloves to the pans and continue to bake for another 15 - 20 minutes or until the sweet potatoes are just tender.
Transfer the sweet potatoes and onion and garlic to serving dishes and pour over the Sweet Ginger & Lemon dressing. Garnish with a sprig or two of rosemary and strips of lemon zest for a real 'feast-food' look.
PS: This recipe works with carrots, butternut and beets too!
*Unless you have sweet potatoes that go brown quickly, this can be done the day before. When the numbers are large and the time little, we'll buy peeled, chunked sweet potatoes. If you can get small, thin skinned and beautifully plump little sweet potatoes - leave the skin on, just scrub them.