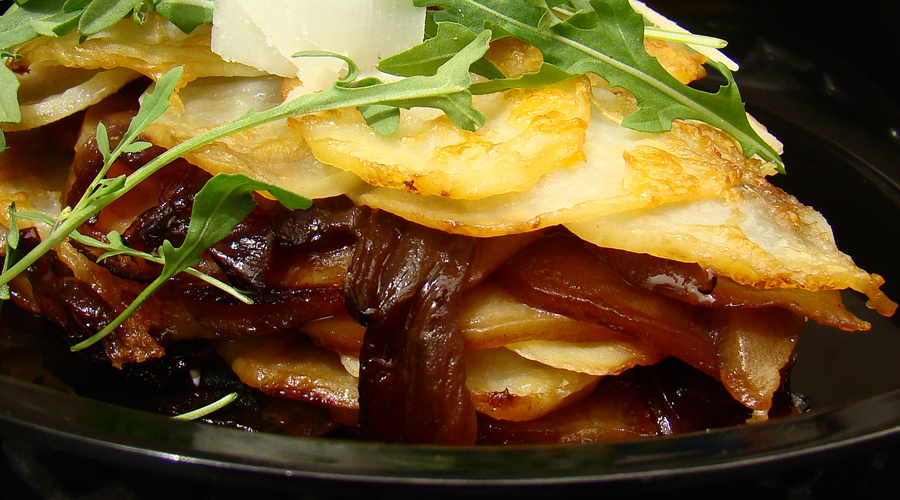 &nbsp
SHOPPING LIST
Serves 4
60g butter, melted.
40ml Olive oil
1kg Potatoes - thin skin, firm, waxy flesh (not floury, mashing potatoes) - well scrubbed
60g Parmesan Cheese - finely grated
Red Onion Relish
Savoury Salt
HOW TO MAKE IT HAPPEN...
Pre-heat the oven to 200&degC.
Slice the unpeeled potatoes thinly - 2mm thick (use a mandoline slicer if you can - it is so much easier!)
Mix the butter and oil & brush the bottom of a spring-form pan with a generous layer of oily butter mix. Sprinkle with a tiny little bit of Savoury salt - literally, just a pinch and a half!
Line the base of the pan with a layer of potato slices, overlapping slightly. Brush with butter mix, sprinkle with ± a fifth of the Parmesan and another pinch of salt. Make another layer like this. By now, you should have used about two thirds of the potato.
Spoon five blobs of Red Onion Relish onto this layer. Dont try and spread it - just flatten the blobs a little.
Make another layer or two like the first ones. Brush the top with the rest of the buttery oil, a pinch of salt and the last of the Parmesan.
Bake at 200&degC for 40-50 minutes or until the potatoes are tender and the top golden and crispy.
Serve with a wild-leaf and rocket salad with extra Parmesan.
Pro-Tip: If you find the idea of this much Parmesan overwhelming, use Gruyere or Gruyere with a bit of Parmesan!