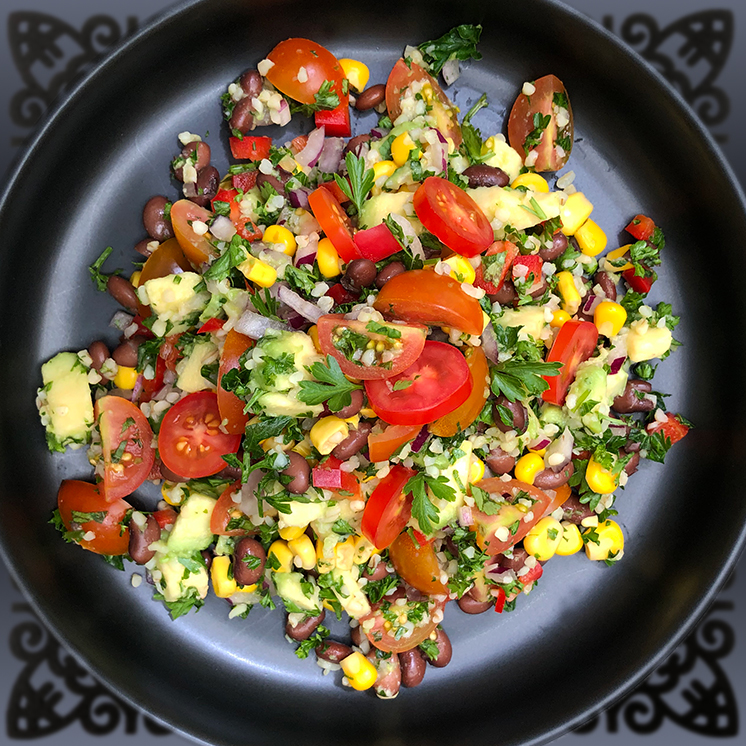 &nbsp
SHOPPING LIST
Serves 4
1 can of Black Beans - drained
2 Avocados (cubed)
1 cup cooked corn kernels
8-10 mini tomatoes (some sliced, some quartered)
half cup of diced red onion
1 cup cooked Bulgar Wheat
half a cup of diced red pepper
fresh coriander - chopped (small bunch or about third of a cup)
flat leaf parsley - chopped (small bunch or about third of a cup)
Dressing
60ml fresh lime juice
180ml olive oil
30ml Honey Mustard
Savoury Salt
HOW TO MAKE IT HAPPEN...
Combine the dressing ingredients and whisk to mix. Taste for salt; add a little more mustard if you prefer - it all depends on how robust your limes are on the day. If you want to boost the lime-ness - rip a few strips of zest from the skin of the lime and float in the dressing while you make the rest of the salad.
In a large bowl, mix all the prepped bits - just stir gently to combine. taste for salt. Pour over the dressing and jiggle gently to mix. Serve with crusty artisan bread and a fine white wine...
PRO-TIP&nbsp If your family are not keen on raw onion taste, chop the red onion and sprinkle with salt - let it sit for a minute or two (no longer, the onion will go soggy!) and rinse - it takes out the sting of the onion.
An interesting change is to add a little chopped green pepper or, for those who have to have a little heat with everything - couple of thinly sliced, fresh Jalapeños.