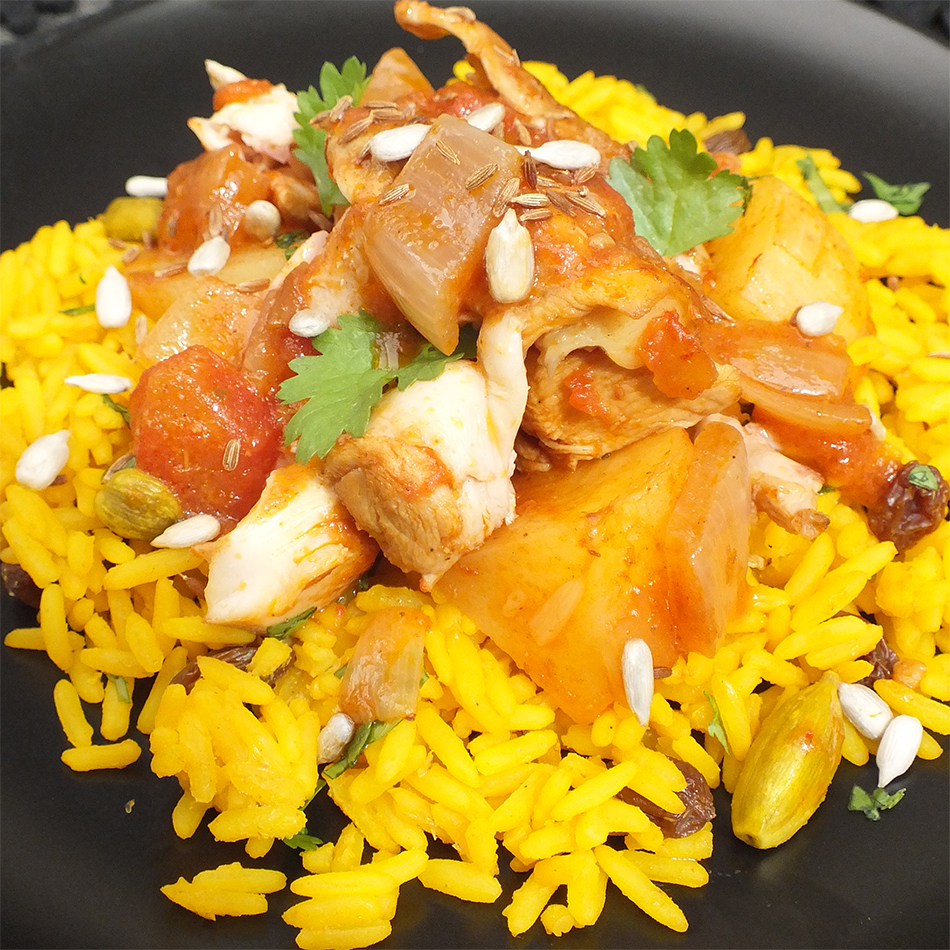 Yellow Cape Curry Paste is a classic, mellow curry. Milder than the Red Cape Curry Paste, it is satisfyingly spicy without being hot - an authentic taste of the Cape.
Chicken Curry with spiced yellow rice is an easy-eating family meal - it is hearty without being 'heavy'
and it tastes as if it should have taken a l-o-n-g time to prepare...
SHOPPING LIST
Serves 4
FOR THE CURRY
Peanut Oil
Butter
60ml Yellow Cape Curry Paste
1 Onion, large, finely chopped
400g Tinned, chopped, peeled Tomato
40ml Chutney
1 Chicken Stock Cube, crumbled
8 Chicken Thighs, skin removed and bone-in
350g Potato, cut into chunks
50g Coriander leaves, chopped
FOR THE YELLOW RICE
250g Basmati Rice
30g Raisins
5ml Ground Turmeric
1ml Ground White Pepper
1 Cinnamon stick, snapped in half
6 Cardamom Pods
FOR THE SPRINKLE (OPTIONAL)
A small handful of sunflower seeds and a few generous pinches (or to taste) of Cumin Seeds (Jeera).
HOW TO MAKE IT HAPPEN...
Heat the oil and butter in a large, wide pan. Add the onion and fry for 5 mins until softened, stirring every now and then.
Stir in the curry paste and cook for 5 mins, stirring frequently to stop it sticking. Add the tomatoes, chutney and crumbled stock cube.
Add the chicken thighs, pushing them under the liquid, then cover the pan and leave to cook for 35 mins. Stir well, add the potatoes and cook uncovered for 15-20 mins until they are tender. Stir in the coriander.
To make the rice: Place the rice and spices in a large pan with 550ml water and a pinch of salt. Bring to the boil, cover and cook for 10 mins. Turn off the heat, add the raisins and leave covered for 5 mins.
Dry fry the sunflower seeds and cumin seeds on a medium heat. Add a pinch of Savoury Salt while they're toasting - watch them - they singe easily!
Finally, fluff up the rice and serve with the curry and the sunflower seed topping.