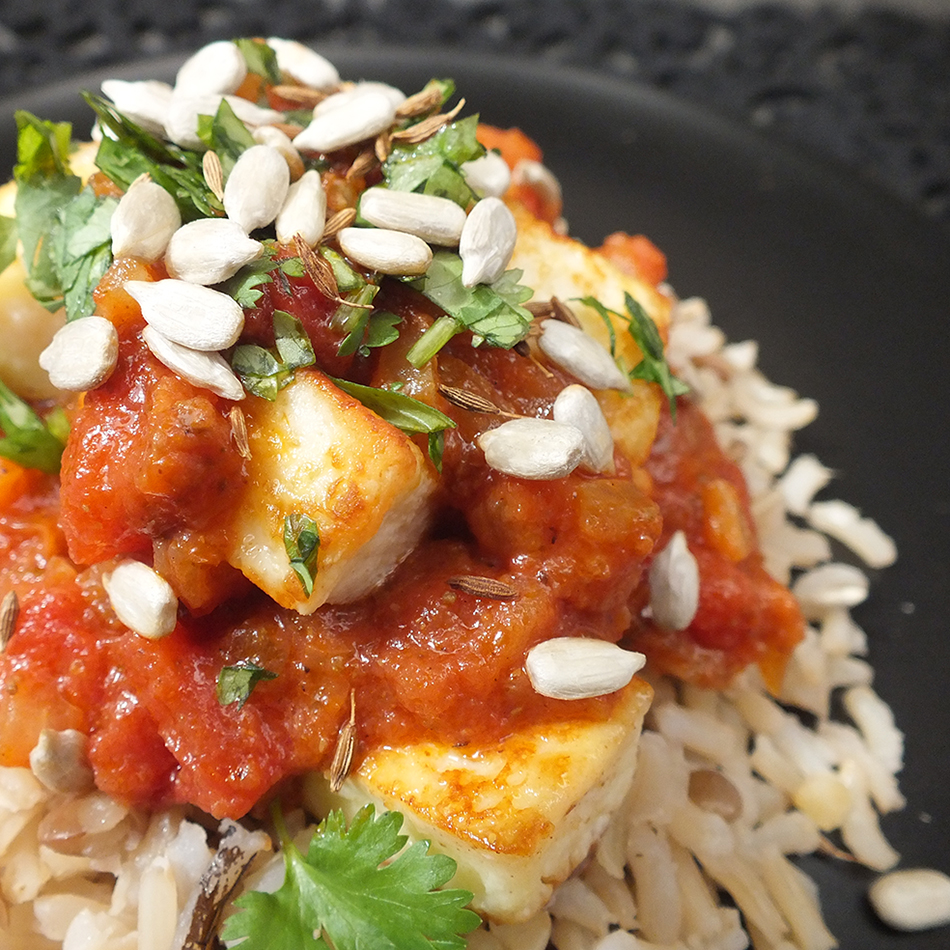 This dish is the novice cook's best, best friend - it is virtually impossible to go wrong - and (best news!) it tastes as if a serious cook has spent a lot of energy getting it just right...
Paneer curry is extremely tolerant - provided it is not kept too hot (PRO-TIP: it must not even come close to boiling!) - it can stand around for buffet-style eating for hours.
---
SHOPPING LIST
Serves 4
Butter
Peanut Oil
45ml Red Cape Curry Paste
1 Onion, finely chopped
400g Paneer (or Haloumi Cheese), cut into cubes
400g (1 tin) Chopped, peeled Tomatoes
Coriander leaves, a handful, chopped
15ml Sunflower Seeds
15ml Cumin Seeds
2.5ml Savoury Salt
Rice and Naan to serve

---
NOW MAKE IT HAPPEN...
Heat a knob of butter and a little peanut oil in a large pan, add the onion and cook until tender. Add the curry paste and cook for 2 minutes, stirring frequently to stop it sticking. Add the tomato - taste for salt (add some if needed) and heat (add some chilli if you want hotter).
Heat a little oil in a large non-stick frying pan and gently fry the paneer until golden. Add the paneer to the sauce and warm through. Dont let it get near boiling - your Paneer will get tough and dry!
Place the sunflower seeds in a dry pan and roast until they just start to change colour, add the cumin seeds and salt, and roast a little longer.
To serve, spoon Paneer onto rice and/or Naan bread. Garnish with the sunflower and cumin seed mix, and the chopped coriander.
---
WHAT'S IN RED CAPE CURY PASTE...
Water, sunflower oil, vinegar, garlic, tomato puree, Garam Masala (coriander, star anise, fennel, cumin, cinnamon, clove, pimento), lemon juice, paprika, curry powder (maize flour, cayenne pepper, turmeric, salt, ginger, star anise, fenugreek), curry leaves, sugar, chilli.