Pomegranate Balsamic Reduction is flavour-friends with the tastes of North Africa, Turkey and the eastern Mediterranean.
Think mint, cinnamom and rose... also almonds, pistachios, cumin, sesame, chick-peas, lentils, cucumber and red peppers.
Good with white cheeses - Ricotta, Mozzarella and white goats milk cheese .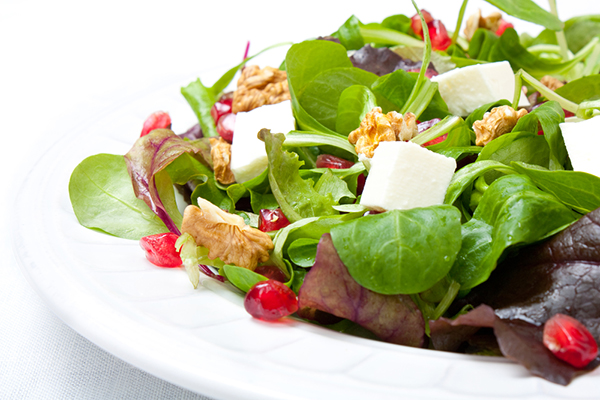 Use it as a splash - on a young leaf salad (think lamb's lettuce, watercress and baby spinach) with walnuts, feta and pomegranate jewels - or as a finishing drizzle on roast chicken or lamb - or as a marinade/pickle for beetroot ribbons.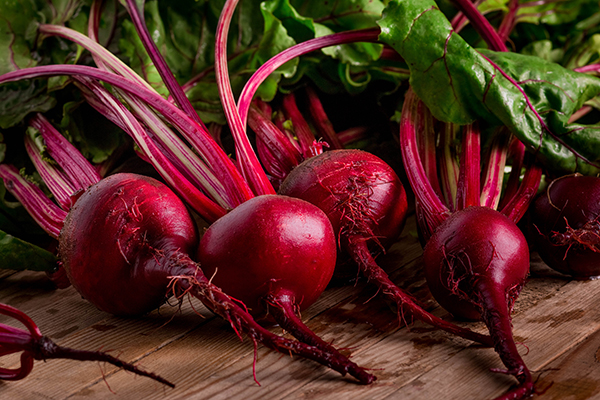 If ever beetroot had a cheerleader, a praise singer and a promotor all in one - Pomegranate is it!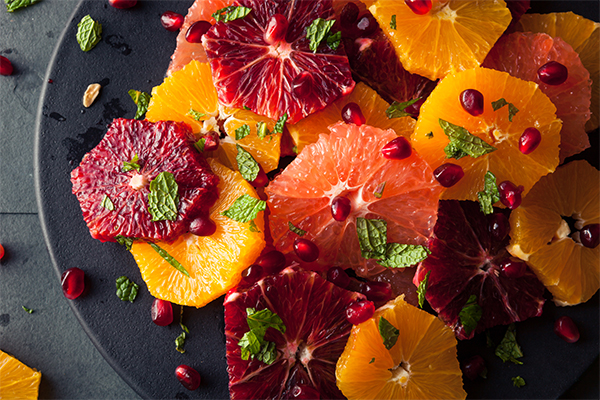 And then we get to pomegranate and blood oranges... with a few pistachios, some pomegranate jewels and mint.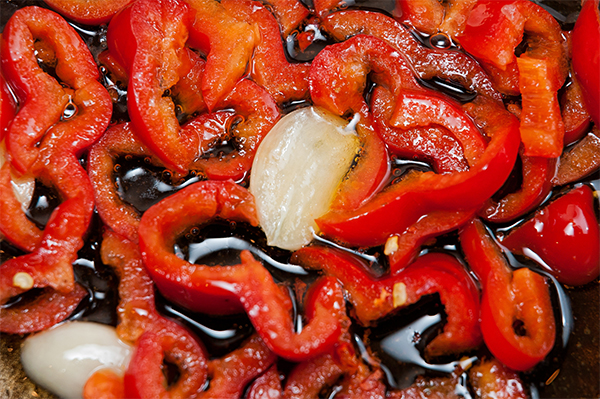 One of the most magnificent sides on a mediterranean feast-table, is a red pepper sauce that is so, so tasty.
Clean a couple of cloves of garlic and slice some beautiful red peppers. If they are young and thin-skinned, leave the skins on - otherwise rather skin them first by charring over a hot flame - gas, fire, blowtorch - and popping them into a bag for a few minutes to 'steam' the skin loose.
Put enough oil (a mix of ± ⅓ sunflower oil and ⅔ light olive oil for cooking) into a shallow pan with a lid, to half cover the red pepper slices. Cook them on a very low heat - we're talking lower than bubbling temperature here - for as long as it takes for the peppers to be melt-in-the-mouth soft.
At the end of the cooking time, drain the peppers and garlic but keep the oil - you have a spectacular infusion there.
Now, you can either decide to serve the pepper slices whole/chunky or blend them into a sauce.
If serving them whole, drizzle them with a generous amount of pomegranate reduction, add a sprinkle of salt and jiggle the bowl around a bit to mix - stirring will break your peppers.
If you're saucing them, decide if you want to include the garlic or not, then blend them with a generous splash of pomegranate reduction and some salt to taste. If the sauce is too tight - lighten it with a little of the reserved oil.
Enjoy!